E-Store
ARC Camo ST Tippet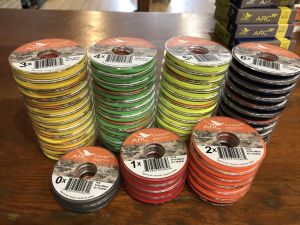 Guide Favorite!
The technology is great, but even better is having the multi colored tippet make untangling easier (it's color coded!) and making threading flies easier too (something dark to thread instead of something invisible)
Details
It's back, better, stronger, and even more abrasion resistant!
The fly fishing industry's first multi-colored camouflage tippet is engineered to offer maximum invisibility in a wide range of fishing conditions. The perfect choice for anglers who consider high strength and low visibility the most important features, ARC Camo's unique color pattern reduces light transmission and blends with the natural background environment making the line virtually invisible.
40 yard spools
Proprietary, multicolor line pattern for maximum invisibility in a variety of fishing conditions
Extra suppleness for life-like fly presentation
High abrasion resistance and superior knot strength
Ultra consistent diameter
Controlled low stretch for improved feel and hook set
Color coded retainer bands for easy identification