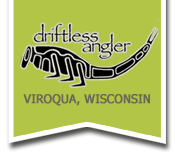 Driftless Angler Fly Shop
Wisconsin's Premier Fly Shop and Guide Service
Fishing Reports
Driftless Area - August 22nd, 2014
Recorded:
85 ° F
Fishing: Good
Fog this morning, then warmer mid day with the clouds breaking in the afternoon. Temps are not blazing hot for the fish, and the recent rains (we got much less rain than over the Mississipp and north and south of us) will keep things cool in the trout's world, but check your thermometer on the larger creeks just in case.
Streams are clear to stained area wide.
Terrestrials have been tons of fun this summer. Fishing beetles and hoppers, (especially sunken lately) has been deadly. Tying on a smaller bead head dropper below will get you even more fish.
Nymphing slow and deep under the banks or deeper pools has also been effective, especially when you twitch your fly!
Driftless Area - August 21st, 2014
Recorded:
86 ° F
Fishing: Good
UPDATE 1:30 Rain shut off around 11:30. The morning guide trips were successful and we did not see any major runoff happening (the ground is very dry and soaking up a lot of the rain). Dry so far and nothing unfishable except for some murky larger creeks.

Update 9:30--- rain is heavy on and off. Watch for brief lightning and watch for some creeks to muddy up briefly.

Good soaking rain this morning! This will help refresh some springs and keep water temps cool. Expect some slight stain on larger creeks. If it rains heavily we will update you.
Leeches, scuds, and your normal pheasant tail style nymphs will work in this weather.
The terrestrial bite will be slower until the rains pass.
watch for olives hatching this afternoon and evening.
Driftless Area - August 20th, 2014
Recorded:
82 ° F
Fishing: Great
The fish are terrestrial crazy!
Waters are clear to stained with temps that are still incredible for this time of season.
Tricos
in the mornings are still getting fish rising. The spinners are hitting the water around 6:30 and in some cases lasting until 10.
Terrestrials
are the main meal right now with fish crushing ants and beetles in the riffles as well as hoppers fished close to the bank. Don't be afraid to tie on a bead head dropper below your larger more buoyant patterns.
Subsurface fishing is still best on smaller,
thin bodied flies
and scuds.
The sun is the limiting factor right now so find shady areas, fish deep, and fish next to darker undercut banks and under the overhanging vegetation.
Driftless Area - August 19th, 2014
Recorded:
77 ° F
Fishing: Great
A good soaking rain last night (It was worse north of I-90) put about an inch of rain into the system! It is dry enough that it will not do any lasting damage to streams, however expect a few stained streams this morning clearing out by this afternoon.
Tricos are on the menu first, with fish rising well in the early hours of morning. After that, terrestrials with a nymph dropper, or smaller terrestrials on the surface in the riffles are doing well. We have started to see some olives hatching during the cloudy parts of the day too.
Subsurface fishing is still solid on thin bodied nymphs and scuds as well as pink squirrels. You may have to be right on the bottom of deeper pools when the sun is shining, and don't forget to twitch that bead head!


Driftless Area - August 18th, 2014
Recorded:
79 ° F
Fishing: Great
The perfect summer continues!
Tricos in the mornings, terrestrials all day on the surface. Fishing thin bodied bead head nymphs slowly at the bottom of the pools on sunny days hs been fantastic!
Waters are low and clear with temps in the high 50s to mid 60.
it is supposed to rain a bit today which will cool things down a bit and refresh some springs if we get enough.
Driftless Area - August 17th, 2014
Recorded:
74 ° F
Fishing: Great
The weather is unbelievable for this time of year. Cloudy and cool again today.
Fishing has been fantastic on smaller terrestrials throughout the day.
Tricos are appearing on many streams in the mornings, but a bit later than normal due to colder overnight temperatures.
Terrestrials are fishing well, however during the sunny parts of the day they need to be inches from the banks to fool fussy fish.
Subsurface fishing has been best on a mix of different bead head flies. Mostly thin bodied and dark.