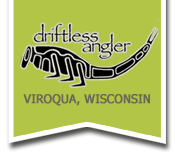 Driftless Angler Fly Shop
Wisconsin's Premier Fly Shop and Guide Service
Fishing Reports
Driftless Area - March 28th, 2015
Recorded:
38 ° F
Fishing: Good
Cold morning this morning. Don't be in a hurry to get out there. Let the sun warm things up and you will find much more active fish.
Fish are in deeper pools early, then pushing out into the runs later in the day.
Waters are low and clear, with temperatures in the high 30s to mid 40s.
Small dark flies, scuds, leeches have been effective subsurface. There have been spotty midge hatches on the warmer creeks in the afternoon.
Driftless Area - March 27th, 2015
Recorded:
32 ° F
Fishing: Good
Although cold, the fishing has still remained solid for this chilly spell.
Fishing picks up mid day and into the late afternoon. Although there is snowmelt it has not been heavy enough to shut things down entirely. Most creeks are running at 40 degrees, with some smaller, headwater streams and springs hitting 50.
Water is low and clear and fish spooky with the sun high in the sky. Fish are congregated deep in pools but will come out and feed in the runs in the late afternoon as midges are hatching.
We're still in leech, scud, midge mode subsurface. Fishing slow and deep.
There have been spotty midge hatches around 1-2 in the afternoon.
Driftless Area - March 26th, 2015
Recorded:
37 ° F
Fishing: Good
Snow is slowly melting away, which means streams are still clear! Water temperatures are hovering near 40 again on most streams due to the late day snowmelt. Some of the headwater creeks and those near larger springs are in the upper 40s by the end of the day.
Fishing starts later in the morning as things warm up. Fish have been keying in on scuds, midge larvae, leeches, and larger stonefly type patterns.
Late afternoon has given us some midge hatches with rising fish, especially on the warmer creeks.
Although the air is cooler than a week ago, the fishing has been a ton of fun! Fish are either in the deep pools or runs feeding.
Driftless Area - March 25th, 2015
Recorded:
40 ° F
Fishing: Fair
Another round of snow and sleet last night means we are back to worrying about melting over the next couple of days. Fishing will remain solid until the later afternoon when we could see water temperatures drop slightly and turn fish off. This will not last more than a couple of days.
Banks have boot deep snow on them that is melting steadily.
Fishing has been pretty good on leeches and scuds throughout the day, and the midge harch has been solid in the later afternoon as well.
Fish are feeding in the deeper pools and coming out into the runs as water temperatures rise.
Driftless Area - March 24th, 2015
Recorded:
39 ° F
Fishing: Good
A good mild day will slowly melt the existing snow. We are forecasted to get some more tonight!
The snow and cold weather have not turned the fish off at all. They are active in the later morning feeding on midges, scuds and leeches.
Water temps are in the low to mid 40s.
Driftless Area - March 23rd, 2015
Recorded:
36 ° F
Fishing: Good
What looks grim on the weather forecast is actually good news for the creeks!
We had a few inches of snow last night, and will get a bit more preciptation throughout the week. We will not have hot enough days to muddy things up and make the creeks unfishable. The waters were quite low for March, so this injection should bump up water levels a bit and get this rolling along the next few days.
Waters are low and clear with temperatures in the low 40s to mid 40s.
Midges, leeches, and small, thin bodied darker colored bead heads are working well. The hot patterns last week were pretty much all scud patterns.
Fish are in the pools and runs and feeding well.