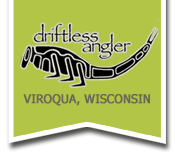 Driftless Angler Fly Shop
Wisconsin's Premier Fly Shop and Guide Service
Fishing Reports
Driftless Area - March 7th, 2014
Recorded:
38 ° F
Fishing: Fair
Warm today and cloudy. This is the first solid day of the season with temperatures in the high 30s! At 7 this morning it was already 27 degrees.
Fishing has been getting much better over the past few days with waters mostly ice free and midges hatching area wide.
The best streams have been the springs and smaller tributaries, as well as the larger meadows flowing east/west.
Fish are eating midges, scuds, and pink squirrels with tiny, thin bodied dark flies being the best.
Good outlook for weather this weekend with some melting, but not enough to screw up the creeks.
Water temps in the high 30s to low 40s, and clear water area wide.

Driftless Area - March 6th, 2014
Recorded:
29 ° F
Fishing: Fair
Today marks the beginning of a good period of melting that will last through the weekend. The melt will be slow as it will lock up again each evening and water clarity should not suffer.
Remember your thermometer! Days like these can be fantastic fishing until the cold snowmelt starts to drop water temps. As of now they are hovering near 40 area wide. If they drop a degree or two, things start to shut down.
Fish are feeding on midges and other dark, thin bodied flies as well as scuds and pink squirrels. The rising fish are eating midges.
Driftless Area - March 5th, 2014
Recorded:
22 ° F
Fishing: Fair
Things are freeing up and more waters are becoming fishable!
Not quite as cold again today, and driving around checking streams has put a smile on our faces. More streams are ice free, and while the snow is still a couple feet deep, fish on the smaller streams and headwaters closer to the springs are happily eating midges and even rising to them in the late afternoon.
Water temps are in the high 30s to low 40s. Streams are clear.

Driftless Area - March 4th, 2014
Recorded:
21 ° F
Fishing: Fair
It will be warm enough to be outside today!
Cloudy and less wind means the end of the frigid weather.
many streams still have ice on them, those in open valleys and those with more springs on them (headwaters) are fishable.
Fish are eating midges and scuds subsurface, and on the warmer creeks, they are rising to midges.
Water temps are in the high 30s to low 40s.
There is about two feet of snow on the banks, and walking through it without snowshoes can be difficult. With the warmer weather the rest of the week, we should start to see a good amount of melting, especially on sunny days.
Driftless Area - March 3rd, 2014
Recorded:
11 ° F
Fishing: Poor
The frigid weather begins to turn today! The past couple of days were extremely cold, but fish were still rising to midges and eating tiny black bead head nymphs subsurface.
Many streams still have some ice on them, but over the next couple of days they will free up and become easier to fish. The streams with the most springs (headwaters) and those flowing east/west are open and your best bet in cold weather.
Water temps are in the high 30s to low 40s.

Driftless Area - March 2nd, 2014
Recorded:
2 ° F
Fishing: Poor
Despite bitter cold, anglers had some success yesterday. A few even found rising fish! Water temps are in the high 30s to 40. Temps at 40 or above are the best fisheries under these conditions.
The next couple days will be cold again, so make sure you dress for the weather. Fishing is best between 10 and about 3 when the temperatures are the warmest.
Scuds, midge larvae, pink squirrels, and tungsten bead head nymphs are best.