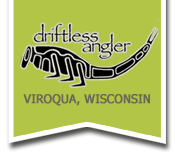 Driftless Angler Fly Shop
Wisconsin's Premier Fly Shop and Guide Service
Fishing Reports
February 26th, 2015
Recorded:
8 ° F
Fishing: Poor
Wisconsin's season opens on March 7th!

Cold through the rest of the week, then warming up a bit early next week. With the mid 20s on Sunday and Monday, fish will be rising to midges. Something we hope keeps up for opener!
Although very unpredictable and inaccurate, the long term forecast has high 20s to low 30s for opening weekend.


February 25th, 2015
Recorded:
15 ° F
Fishing: Poor
Cold continues (it is still winter afterall!)
Wisconsin's season opens March 7th. Minnesota and Iowa are open (be sure to check regulations).
Some shelf ice is still around, but fish are feeding subsurface in the deeper pools and where springs and seeps are present.
A few midges hatching on warmer days, especially when the sun is on the water in the afternoon.


December 8th, 2014
Recorded:
0 ° F
Fishing: Poor
Winter conditions all around here on out. On days that the air temps reach the mid 30s or higher, fish will be much more active. Most days they will be on the bottoms of the pools and will only take heavy patterns rolled along the bottom.
Sunnier days you may see some surface activity on midges.
It is all about temperature now. Make sure you check the weather before hand.
November 24th, 2014
Recorded:
26 ° F
Fishing: Poor
Snow this week, travel will be dicey today (Monday). This is the time of year that the fish are spawning. Please either choose not to fish and leave the fish alone, or make sure you leave any beds alone and fish below them.
Remember Wisconsin's season is closed.


November 21st, 2014
Recorded:
26 ° F
Fishing: Poor
Fishing will peak a bit this weekend with some warmer temperatures Saturday and Sunday. There will be a bit of snowmelt and possible rain/sleet too. Not too shabby for November weather fishing over in Iowa as long as the precipitation doesn't come too hard and too fast.
Scuds, Leeches, midge larvae, pink squirrels and possible surface activity on small midges and olives in the afternoon.
November 14th, 2014
Recorded:
24 ° F
Fishing: Poor
It's cold. As in break the ice free from your guides every 5 casts cold.
You can catch a couple fish subsurface, but are much better off waiting for a bit of a warming trend. Watch for temperatures to get at or above freezing and a cloudy night that will keep some heat in for better fishing over in Iowa.
The contest to nominate the best fly shop in the country is still going on. We humbly ask for your vote.
wishpond.com/lp/351940