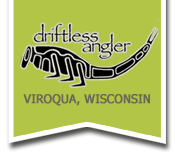 Driftless Angler Fly Shop
Wisconsin's Premier Fly Shop and Guide Service
Fishing Reports
Driftless Area - August 31st, 2014
Recorded:
83 ° F
Fishing: Great
Clear to stained area wide today. The major rains missed us and we're left with excellent conditions again!
Tricos have been doing their spinner fall in the mornings, but a bit lighter due to the fog in the mornings. Terrestrials are still hot all day long, as are para-wullf flies on the surface.
Subsurface fishing has been very strong on midge larvae, pink belly pheasant tails, frenchies, and other thin bodied nymphs.
Leeches and streamers have also been solid, especially in the water with a bit of a stain on it.
Driftless Area - August 30th, 2014
Recorded:
76 ° F
Fishing: Great
We managed to dodge the bullet again with the rain last night. A 24 hour total of about an inch.
Expect streams to be clear to stained and running cool.
Tricos in the mornings, terrestrials have been excellent throughout the day, especially sunken beetles and ants. Just squeeze a little water in them and fish them behind an indicator fly.
Subsurface fishing has been solid on micro nymphs and midge larvae.
Leeches, scuds, and streamers will be hot this weekend with the light rains, clouds, and small bump in creek flows.
Driftless Area - August 29th, 2014
Recorded:
82 ° F
Fishing: Great
UPDATE 12:45--- No rain and it is sunny outside. So far everything is clear to stained still and beetles and hoppers are kicking butt again today!
So far the rains have only been drizzle. The forecast is for a bit more today and into tonight, but so far we are not worried about the creeks being unfishable through the weekend. Keep an eye on this report for updates today.
Creeks are clear to stained now with great water temps in the mid 50s to mid 60s.
We are getting tricos in the mornings, and fishing terrestrials all day long.
Beetles
seem to be the best, followed by
hoppers
and
ants
. If the fish are rolling on the fly or refusing it, try sinking your terrestrial.
Subsurface patterns that are best right now are
Frenchies
,
pink squirrels
,
scuds
, and
thin bodied nymphs
.
Don't neglect leeches and streamers especially if the creek has a stain on it or clouds stay in the sky. There have been some larger fish eating lately!
Driftless Area - August 28th, 2014
Recorded:
72 ° F
Fishing: Great
The weather forecast changed overnight! We are no longer forecasted to get 2-3 inches today, now we're supposed to get only showers (excellent news!) and about an inch. That is not enough to make anything unfishable. We will keep you posted.
Fishing has been so much fun this summer. Water temperatures are excellent, clarity is perfect (clear to slightly stained) and the fish are feeding well on tricos in the morning, then hammering terrestrials on days like today (overcast and cool).
Nymphing has been excellent with flies fished in the shin to thigh deep water, as well as heavy nymphs rolled along the bottom of deeper pools.
Don't forget leeches, streamers and mice!
Driftless Area - August 27th, 2014
Recorded:
75 ° F
Fishing: Great
Another pattern of cold weather has settled in the area. Temps will be in the high 60s to mid 70s the rest of the week!
We are forecasted for some rain the next few days. We will keep you posted on just how much and what, if anything, it is doing to the streams.
Fishing has picked up again after a hot weekend. Tricos in the mornings have fish rising on many creeks. But, as it has been all August, terrestrials are the key right now. Beetles, small hoppers and ants have been excellent. There have been sporadic hatches of midges and mayflies in the evenings too.
Subsurface fishing has also been excellent on smaller, thin bodied patterns with just a hint of color or flash in them.
Leeches have also been picking up more and more fish, especially underneath the banks and when the sun is not on the water.
Driftless Area - August 26th, 2014
Recorded:
73 ° F
Fishing: Good
And the pleasant weather returns!
After a hot weekend, things are stabilizing and cooling down quite a bit.
The storms the past couple of days had the waters up and muddy, but they dropped and cleared quickly. Expect everything to be fishable today with only a couple of exceptions, and for the creeks to be clear to mildly stained.
On the cloudier streams subsurface fishing with
scuds
,
leeches
, and
larger nymphs
and San Juan worms will get you trout. On the clearer waters,
terrestrials
with a smaller,
thin bodied bead head nymph
will do the trick.
The benefit of the rain was an instantaneous drop in water temps. Things are back on track to continue the perfect summer.