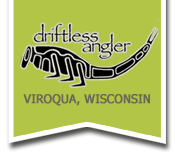 Driftless Angler Fly Shop
Wisconsin's Premier Fly Shop and Guide Service
Fishing Reports
Driftless Area - October 31st, 2014
Recorded:
38 ° F
Fishing: Fair
Cold and windy today, with the weekend chilly but mellowing out wind wise.
Fishing has been good enough, and the crowds are thinning a little bit over in Iowa.
Look for hatches in the late afternoon. Otherwise fish deep with scuds, leeches and pheasant tail type patterns.
We are starting to see some early spawning beds, so please leave the fish alone that are beginning to spawn!
Also, we are fortunate to be nominated for fly shop of the year for 2014. If you would, please visit the
Gink and Gasoline voting site
and vote Driftless! Thank you.
Driftless Area - October 29th, 2014
Recorded:
48 ° F
Fishing: Fair
Fishing is still OK in Iowa, and the cold front should make it a bit less crowded...
With the colder weather the fish will be active later in the day. No reason to get out there too early.
Subsurface fishing on tiny nymphs and leeches slowly twitched through the deeper pools is key until later in the afternoon when a few olives and midges can get fish rising.
Driftless Area - October 22nd, 2014
Recorded:
60 ° F
Fishing: Good
Iowa is fishing well, but has been extremely crowded with the nice weather.
Tonight it will cloud up and start to drizzle. This weather will last through tomororw.
Then it will return to being blue skies and warm.
Fishing is best subsurface under these conditions. There will be some rising fish to olives later on in the day.

Driftless Area - October 20th, 2014
Recorded:
58 ° F
Fishing: Good
The weather has been nice, and everybody knows it. Iowa has been very crowded lately and the fish are fussier than usual.
Fishing nymphs on a light tippet with a small indicator has been most effective throughout the day. There have been good hatches of olives, but the sunny weather makes for spotty dry fly activity.
Leeches are also still working fished deep and slow.
Driftless Area - October 17th, 2014
Recorded:
55 ° F
Fishing: Good
Fishing has been good over in Iowa lately (Wisconsin is closed).
There are olives all over the place, and even a few caddis, but only sporadic risers throughout the sunny days. A bit of cloud cover should help the surface fishing.
The activity below the surface has been great. Waters are clear to slightly stained and leeches, streamers, pheasant tails and midge larvae have been excellent lately.
Driftless Area - October 16th, 2014
Recorded:
65 ° F
Fishing: Great
Waters in Iowa (Wisconsin is closed for the season) are clear to stained and fishing well. Olives hatching in the late afternoon and early evening, and fish still looking up to smaller terrestrials and atrractor flies throughout the day. Leeches have been fantastic, and scuds, squirrels, and pheasant tails are catching fish subsurface too.
Beautiful weather over the next few days. A good time to get out and fish!