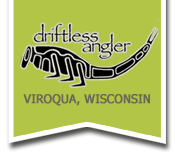 Driftless Angler Fly Shop
Wisconsin's Premier Fly Shop and Guide Service
Fishing Reports
Driftless Area - April 17th, 2014
Recorded:
47 ° F
Fishing: Good
Things are really picking up again!
Olives have been reported hatching area wide, and water temps are in the mid 40s which are excellent for feeding fish, but not quite to the 50 degree mark that signals the arrival of caddis.
Streams are clear to stained area wide and flowing well.
Fish are eating subsurface on hare's ears, scuds, pheasant tails, midge larvae, and pink squirrels.

Driftless Area - April 16th, 2014
Recorded:
51 ° F
Fishing: Good
Cold and windy this morning, It will warm up by this afternoon, but the wind will stick around.
Fishing has been solid with a few streams seeing some nice olive hatches. Most of the activity is subsurface still, with scuds, hare's ears, and leeches topping the list.
Streams are running in the low to mid 40s temperature wise, and are clear to murky. A good rule of thumb is the smaller the stream, the clearer the water. Everything continues to drop and clear, just in time for the weather to turn around and get warmer. If we get a few sunny days, we will start looking for the caddis hatch to start.

Driftless Area - April 15th, 2014
Recorded:
37 ° F
Fishing: Good
Creeks are clearing out quickly and the fishing will get back on track today. Expect clear to milky water area wide with cooler water temps. The cold snap ends tomorrow.
There will be a few fish rising to olives and midges but most of the activity is subsurface on scuds, leeches, and prince nymphs. The caddis, which normall start around this time of year, will be a bit late because of the colder water temperatures.
Driftless Area - April 14th, 2014
Recorded:
36 ° F
Fishing: Fair
Lots of rain this weekend, and snow last night.
Many streams are unfishable this morning after the long soaking showers yesterday. They will drop and start clearing quickly, but today will be difficult.
Leeches, San Juan worms, streamers and scuds in the murky water will catch fish. In the smaller creeks that clear quickly; scuds, pheasant tails, leeches, and she hulks.
Driftless Area - April 12th, 2014
Recorded:
64 ° F
Fishing: Good
UPDATE 3:45 Heavy rain in Viroqua. Although it should pass through quickly, expect some stained water tomorrow (which really isn't a bad thing) We will keep you updated.

UPDATE 11:00 The really bad weather (hail etc) is north of us in LaCrosse county. In town and south it is only dark and lightly raining. The bad storm is north of us.

The clouds are in again today. Yesterday's reports were all solid when the clouds were overhead, not so much when the sun was shining.
It is warm this morning which means fish will be active early.
Water is low and clear and running in the low to mid 40s.
Look for more olives to hatch today with fish eating emergers.
Subsurface fishing is best on pheasant tails, scuds, and leeches.

Driftless Area - April 11th, 2014
Recorded:
65 ° F
Fishing: Good
Another great weekend in the Driftless!
Forecasted clouds and showers all weekend which will be a welcome break from bluebird skies and low/clear water. The best cast scenario is that the showers are steady throughout the day and put a stain on the water.
Look for scuds, leeches, and olives to be the ticket this weekend. We have also seen quite a few spring stoneflies (browns and olives) area wide.
Water temps are still chilly for this time of year hovering in the low to mid 40s with a few getting into the upper 40s in the late afternoon.