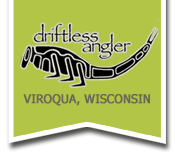 Driftless Angler Fly Shop
Wisconsin's Premier Fly Shop and Guide Service
Fishing Reports
Driftless Area - May 27th, 2015
Recorded:
76 ° F
Fishing: Good
After an inch and a half of rain, we still had fishable water yesterday!
There will be a few murky streams, but they are dropping and clearing quickly. This was a much needed rain and it fell slow and steady meaning it will trickle into the groundwater and recharge the springs.
Fish will be eating caddis and cranefly larvae sub surface on the clearer waters, as well as feeding on caddis, craneflies, and a few mayflies on the surface.
On the murky waters, San Juan Worms, leeches, and scuds will be very effective.
Driftless Area - May 26th, 2015
Recorded:
71 ° F
Fishing: Good
UPDATE NOON. Brief heavy rains have stained many waters. Sustained light rains area wide will continue to add muddy water into creeks. There is still clear water out there, but expect more color than this morning.

Fishing has been an absolute blast the past few days. The rains have been gentle, soaking showers for the most part that have not impacted clarity at all. Creeks are clear with temperatures in the low to mid 50s.
There is a bug soup going on with hatches of caddis, crane flies, mayflies (small sulphur colored), and midges! Our more effective surface patterns have been fished in the film as an emerger instead of a high riding fly.
Subsurface has been great too with scuds, soft hackles, leeches, and even San Juan worm being effective!
Driftless Area - May 25th, 2015
Recorded:
74 ° F
Fishing: Good
An excellent, soaking rain yesterday (about an inch + area wide) left the creeks untouched and fishing extremely well! This morning it has drizzled enough to keep the ground wet, but nothing yet too severe to blow creeks out.
Expect water temps near 50-55 and flowing clear to stained, with only a couple showing some mud.
Fish are feeding well subsurface on scuds and leeches, and the bug soup yesterday consisted of craneflies, caddis, olives, little sulphur colored mayflies, midges and some other random mayflies.
Dry fly opportunity abounds right now!
Driftless Area - May 23rd, 2015
Recorded:
73 ° F
Fishing: Good
Gorgeous day to be out fishing today! Some spotty cloud cover will keep more shade on the water than the bright sun we had yesterday.
The caddis hatch rolls on. Caddis and craneflies most of the day have fish looking up and eating on the surface. Splashy rises mean caddis and cranes. There have also been some sporadic mayfly hatches, especially small sulphur colored bugs in the later part of the day.
Subsurface fishing has been great on prince nymphs, pink squirrels and scuds. Keep your fly size a bit smaller as waters are low and clear.
Driftless Area - May 22nd, 2015
Recorded:
71 ° F
Fishing: Good
Good solid hatch activity the last couple of days! In addition to the caddis and craneflies there have been some very small, yellowish colored mayflies hatching later on in the day.
Waters are low and clear with temps in the low to mid 50s.
Fish are in the shin to thigh deep runs feeding on nymphs, scuds and emergers. They will start to rise early on the sunny days, sometimes starting late morning.
At dusk fish will also eat streamers, leeches, and even mice!
Driftless Area - May 21st, 2015
Recorded:
69 ° F
Fishing: Good
A warming day today means even more caddis should show up on the surface.
This is the first sunny day we have had in a while, so expect fish to be in the shade and under the banks early, coming out to feed in the runs when the hatches come off.
Waters are low and clear, all of the recent rains have missed us. Water temps are in the low to mid 50s.
Subsurface flies that have been working well include cranefly larvae, soft hackles, and prince nymphs.
Leeches have been excellent lately, especially when the sun is off the water.