The Area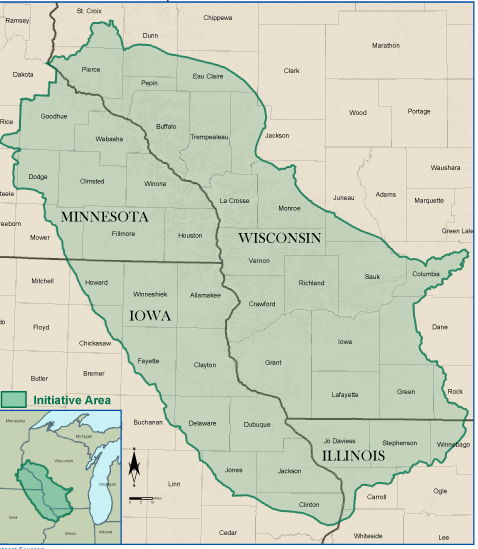 WHAT IS THE DRIFTLESS?
In the middle of fly over country sits an ancient landscape that stands out thanks to its unique geology and incredible trout fishing.
During the last ice age, glaciers surrounded the Driftless Area but never plowed up and deposited materials (known as drift) as they receded.
This left the area with fractured limestone and sandstone. Water percolates through this rock into the ground and is filtered, cooled, and given an excellent PH level. The water then comes out as springs and seeps and gives us the incredible and abundant trout fishing here. In Wisconsin there are over 13,000 miles of Driftless trout creeks many of which flow through over 5 million acres of public land.
We're more than happy to help you get to the right water. Because of the incredible number of creeks we can specialize your fishing experience! Whether you are a beginner, seasoned veteran, casual angler, or even limited mobility, the Driftless has a trout stream just for you. Swing into the shop and we will gladly show you the right flies, and highlight the right spot to make your trip memorable.
The Driftless area of Wisconsin has a dizzying amount of fly fishable water with some of the best spring creek fishing in the world. Take a look at the
Wisconsin DNR Trout Maps
for more information on specific streams.
The Driftless Angler is located in Vernon county which boasts
65 classified trout streams (about 250 miles of trout water)
including the Timber Coulee and West Fork of the Kickapoo. With hundreds of miles within our county a short drive from the shop, and hundreds of miles in our neighboring counties, we have more water than you can fish in a lifetime.
Our creeks are limestone spring creeks with cold clean water flowing out of the ground and creating the perfect habitat for aquatic insects, crustaceans, and trout. Consistent flows of cold, water, great chemistry, and modern farming practices all come together to create a fishery with populations per mile close to that of some of the famous western waters.
Much of our water is public either through public access via bridge, or through conservation easement partnerships between private land owners and the Wisconsin DNR. You can access our waters at any public access point, and if you keep your feet in the water, you are on public lands.