The Guides
guided trips
| Type | Duration | 2021 Prices |
| --- | --- | --- |
| 1 Person | 1/2 Day | $225 |
| 2 Person | 1/2 Day | $300 |
| 1 Person | Full Day | $350 |
| 2 Person | Full Day | $450 |
COVID 19 UPDATE: We will re-assess what guided trips look like as we get closer to the new (2022) season. Worst case scenario is we will have you travel separately and bring your own lunch. Thanks for being patient, we want to make sure we keep you and our staff as safe and healthy as possible!
Our professional and local guides have the expertise and experience to make you a better Driftless angler regardless of your skill level. Much more than just putting you on fish, they will work with you to improve your skills and give you tools that you can use on future trips to the area. Our guide staff don't do this as a hobby, they are full time and dedicated guides who live and work in the Driftless!
Meeting times for trips can be fit into an anglers schedule, call ahead for info. Typically, during the Early Season, we meet at the shop at 8 or 9 AM as fishing is better as the water warms. During the Regular season we meet at the shop at 7:00 AM when the water is cooler. In the heat of the summer we may split the day fishing early and late (5-9). All trips include flies, leaders and tippet, and full day trips include lunch. Trip prices also include rod/reel/hip waders if necessary.

Three days (72 hours) advance is required for booking - no deposit required - only a credit card to hold the day. Cancellations are accepted up until 48 hours before the trip. After that, 50% the cost of the trip will be charged. No shows are charged full trip price.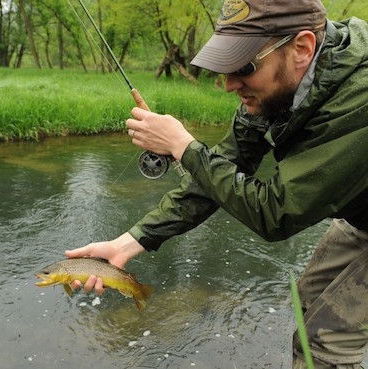 Mat Wagner
Owner
A 30 year veteran of the fly fishing industry, Mat is always happy to share his knowledge and love of the Driftless.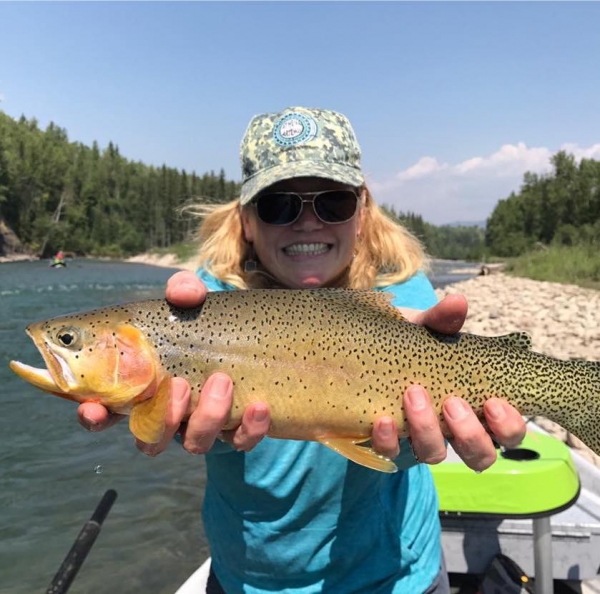 Geri Meyer
Owner
With a deep understanding of the local fisheries, and a laid back and fun style of guiding, a trip with Geri is a memorable one! Geri enjoys introducing women to the sport, and is an ambassador for all things women's fly fishing.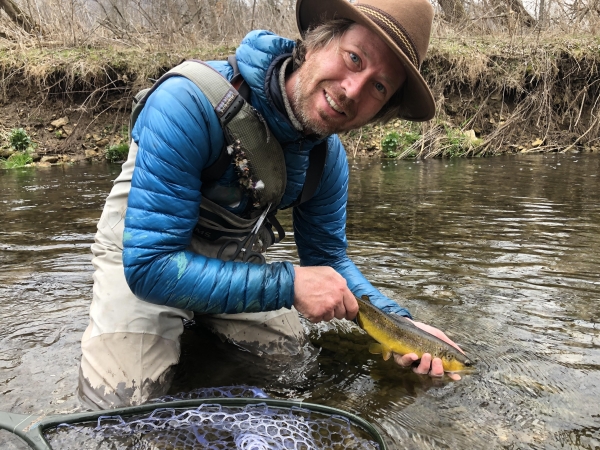 Nick Voss
Guide
Nick Voss. Nick is one of our most knowledgeable and 'fishy' guides! Patient and an excellent instructor.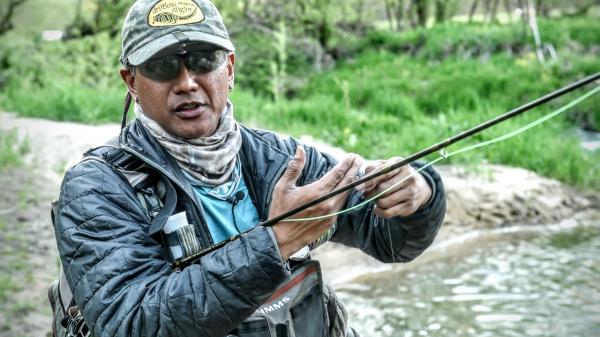 Peter Cozad
Guide
Peter has been guiding for the Driftless Angler since it opened it's doors! Be prepared for a steady flow of instruction and information throughout the day as Pete is one of the most knowledgeable guides in the Driftless!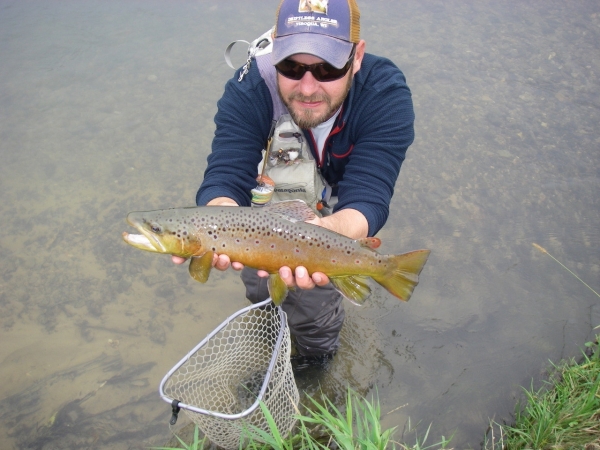 Matt Bethke
Guide
Matt grew up just up the road from the shop in Westby, and has been fly fishing the Driftless since he was 10 years old. After high school, he ventured off to the explore the country, fishing extensively in Arkansas, Montana, Wyoming, and Oregon, among other places. He attended the Sweetwater Guide school in 2013 and began guiding out in Wyoming right after. Even while guiding out west, Matt always found his way home to fish the Driftless as often as possible. After being away for over 20 years, Matt moved back to the area in 2018 and began guiding for the shop full time in 2019. When not fishing or guiding, he enjoys camping, hiking, and collecting antique fishing lures.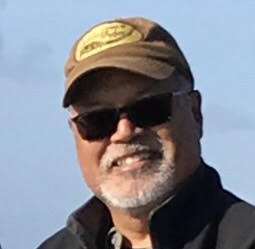 Alan Kato
Guide/Casting Instructor
Alan has been fly fishing since 2000. His trout fishing obsession began on a family visit to Colorado's Dream Stream and Eleven Mile Canyon. In 2010, he joined the DuPage Rivers Fly Tyers (DRiFT) casting group. At the 2011 Conclave in West Yellowstone, Alan became an FFI Certified Casting Instructor. Soon afterward he was introduced to the Wisconsin Driftless region. In 2013 Alan made Viroqua, Wisconsin his home. A recently retired architect, his passion is now focused as a casting instructor and guide. In the Chicago area Alan serves as a co-manager of the DRiFT Casting Program.
Robbie Ruprecht
Guide
Robbie was raised in the Driftless and grew up fishing at his family's cabin which, conveniently, has a trout stream running by. Having fished all over the western united states, he is happiest chasing trout on our local waters. Very enthusiastic and happy to share his love and knowledge of the area.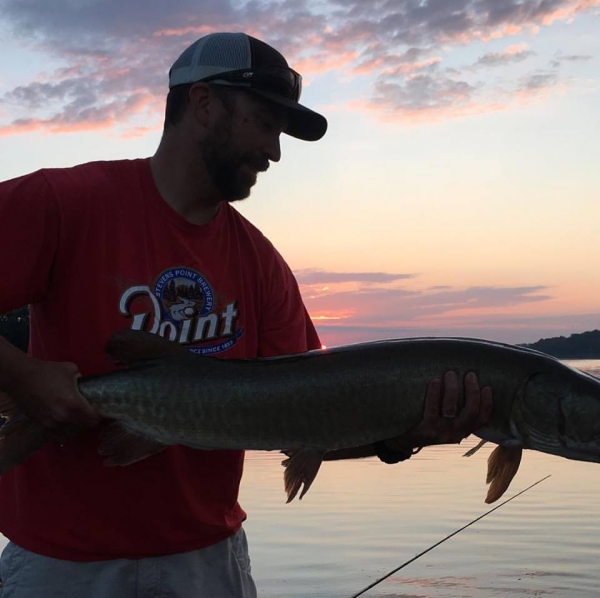 Dan Boggs
Guide
Dan grew up fishing the driftless (If you are a good detective you can find the road near his family's farm that still bears the Boggs name). While he isn't guiding muskie out of Stevens Point, Dan comes back home to show anglers the fun and challenge of fishing the Driftless.
Available by appointment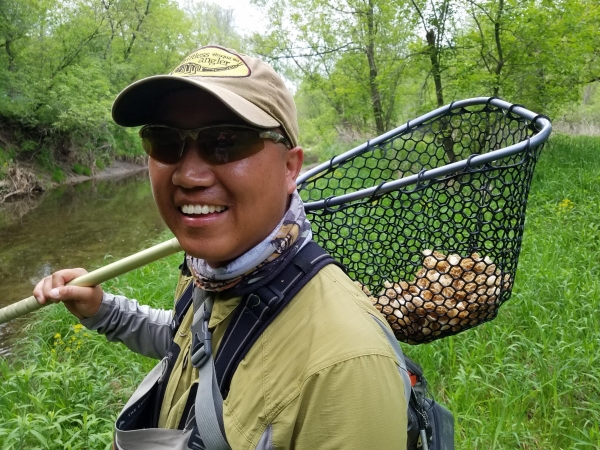 Jerry Khang
Guide
Jerry has been banned from the local one fly tournament as his individual scores consistently ranked higher than the second place team! Jerry and his family have been fishing the Driftless for over a decade. He has guided for the shop since 2017.
He has a unique style of fishing and loves teaching anglers to increase the fish spotting and tight line nymphing skills.
Available by appointment on weekends only. If you are looking to learn Jerry's signature style of Driftless tight line nymphing call us and see if he is available.